Welcome to the take away theatre company - a fresh look at Theatre in Education.
We are a Theatre in Education ( TIE ) company delivering high impact, entertaining drama projects in schools throughout the UK. We are also one of the UK's leading providers of School Pantomimes. You can use this website to find out more about our theatre company and productions we currently have available. It is also possible to make enquiries via the contact form. Click here to see our full programme for 2014
'Hope', the UK's most performed anti bullying production returns for 2014!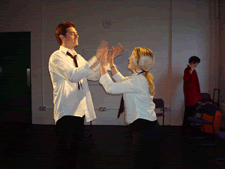 'Hope' is a "Contemporary and Powerful" production that combines music and drama. It tells the story of three young people who are all affected by bullying in different ways. The performance is followed by participatory workshops that encourage pupils to use decision making skills and ultimately decide the outcome of the play!
NEW FOR 2014. An increased focus on the issue of Cyber Bullying!
"I thought the performance was outstanding! It had been very well planned and put together to get the messages across to our pupils. I found it hard to take my eyes off the performance but when I did the pupils eyes were glued too. The acting was fantastic which helped the audience to engage throughout".
Mandy Cook - Teacher at Castledyke School - North Lincolnshire
The production is followed by participatory workshops promoting self-empowerment and examining strategies to combat bullying.
Raises awareness of what motivates individuals to bully.
Addresses Cyber Bullying and promotes the safe and responsible use of technology. Specifically mobile phones, Facebook and other social networking sites)
"Hope" is next available between Monday 24th February - Friday 14th March 2014 . Click here for further information or book now on 0800 158 38 40
BOOK NOW on 0800 158 38 40
A Dash Through Dickens! - Brand New for 2014
The World of Charles Dickens brought to Life!
Told in the style of BBC's Horrible Histories' programme 'A Dash through Dickens' is an entertaining and informative journey through the works and often extraordinary life of Charles Dickens. Pupils will be amazed as some of Dickens' best loved creations such as Oliver Twist, Ebenezer Scrooge and Mr Pickwick are brought to life before their very eyes. As well as learning about Dickens and his books, pupils will also gain an understanding about (and sometimes be disgusted by) what it was REALLY like to live in Victorian Britain!
A Dash Through Dickens' is a available to book in schools between Monday 12th May - Friday 23rd May 2014 Click here for further information
BOOK NOW on 0800 158 38 40
.