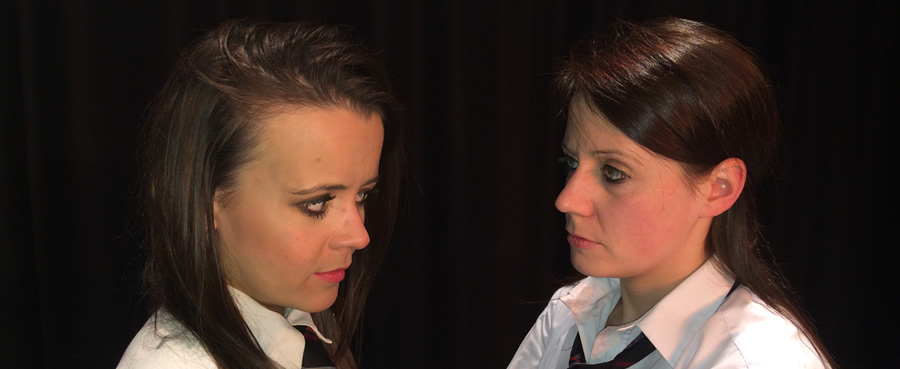 "Hope"- Anti-Bullying Workshop Live Tour 2022
The UK's Leading Anti-Bullying Production! Now in it's 15th year!
Available in Scotland from 28th February - 30th June 2022. This includes Cyber Scotland Week (28th Feb - 6th March 2022).
Available throughout the UK Monday 7th November - Friday 18th November 2022 to coincide with National Anti-Bullying Week.
Touring UK schools for the past fifteen years, 'Hope' is a "Contemporary and Powerful" production that combines music and drama. It tells the story of three young people who are all affected by bullying in different ways.
"Hope" is the story of a beautiful and successful pop star returning to the town where she grew up for the first time in years. A chance encounter between her and an old school acquaintance brings back painful memories of her childhood and the systematic abuse and bullying she suffered at the hands of a classmate. It is a story of courage, self-empowerment and redemption.

The play, expertly delivered by professional actors, is informative, thought-provoking and entertaining and can be followed by up to two participatory workshops that encourage pupils to use decision making skills and ultimately decide the outcome of the play.
Benefits of the production:
Underpins Values and Rights as outlined in the UN Convention on the Rights of the Child and enhances Rights Respecting Schools projects.
'Hope' underlines the message contained in 'Safe to Learn' and relates closely to the 5 outcomes underlined in Every Child Matters
Promotes self-empowerment and examines strategies to combat bullying.
Raises awareness of what motivates individuals to bully.
Addresses Cyber Bullying and promotes the safe and responsible use of technology. (Specifically mobile phones, Facebook and other social networking sites)
Suitable for Primary & Secondary Key Stage 2 & 3 (P4 - S3) although other year groups can be included depending on numbers.
A wonderful performance - a serious message delivered in a professional and highly competent manner. Superb acting with humour, which didn't detract from the serious message behind it all. Extremely realistic!
Damien Suiter - Assistant Headteacher
For further enquires or to book Hope please click here or use our freephone number 0800 158 3840 . Alternatively, please visit our brand new website www.takeawayproductions.com
| | | |
| --- | --- | --- |
| | | |
| | | |
| | | |
| | | |
| | | |